Kyle Winkler
Newest News as of May 2023:

JournalStone, publisher of indie horror, weird tales, and speculative fiction, will be publishing my next novel GRASSHANDS. Current release date is slated for Jan. 19, 2024. Stay tuned for cover reveal and early reviews/blurbs.
Radioactive waste sites act as refugee housing. A giant metal bird grazes the countryside. A gelatinous body-switching drug is sought to help perform folk healings. Most of the world is unusable, a victim of runaway nuclear disasters. The future is a landfill. Read all about it...

In the ruined and irradiated village of Bulm, Pavel helps a drug-addicted witch and her deathly ill son survive. In the American Midwest, Katya Mirov falls in love with Alejandro Po, a baker coping with multiple sclerosis. Everyone is, in some way, tangled in a web with Boris, rural healer and speaker of "the tea words." When spoken the right way, the words can move disease outside the body--but the disease then must transfer into another innocent person. Those around Boris begin to learn the chaotic carousel of words, and the fabric of reality shreds. BORIS SAYS THE WORDS is a cockeyed novel of lunatic speculative vision, touched by elements of horror and science fiction. And sad, sad, sad.
A NEW MOTHER secretly bites her baby until the compulsion ruins her.
AN ABANDONED ANGEL eats the trash of a small Ohio town.
A SOCIAL OUTCAST spies on her neighbor's morphing body for a secret agency bent on skullduggery.
A SCIENTIST suffers horrible mutations to care for a radioactive orphan.
A HOPEFUL COLLEGE GRADUATE labors in an underground bunker scrubbing a giant.
In these twelve weird stories, human bodies are morphed, warped, and withered. Through love, desolation, or entropy. Through motherhood, childhood, or disease. The settings for these stories of painful transformation are often the huddled corners of the uncanny Midwest, but the changes are always happening on the body in pain.
OH PAIN
is a collection of humor and despair from the author of the cosmic horror novella
THE NOTHING THAT IS."Angel skeletons! Parents that bite babies! Monster studies! If I sound effusive, it's because I am, terribly - what a fun and weird and creepy and delightfully sideways book Kyle Winkler has written, and how jealous I am of anyone else reading it for the first time."
- Amber Sparks, author of And I Do Not Forgive You: Stories and Other Revenges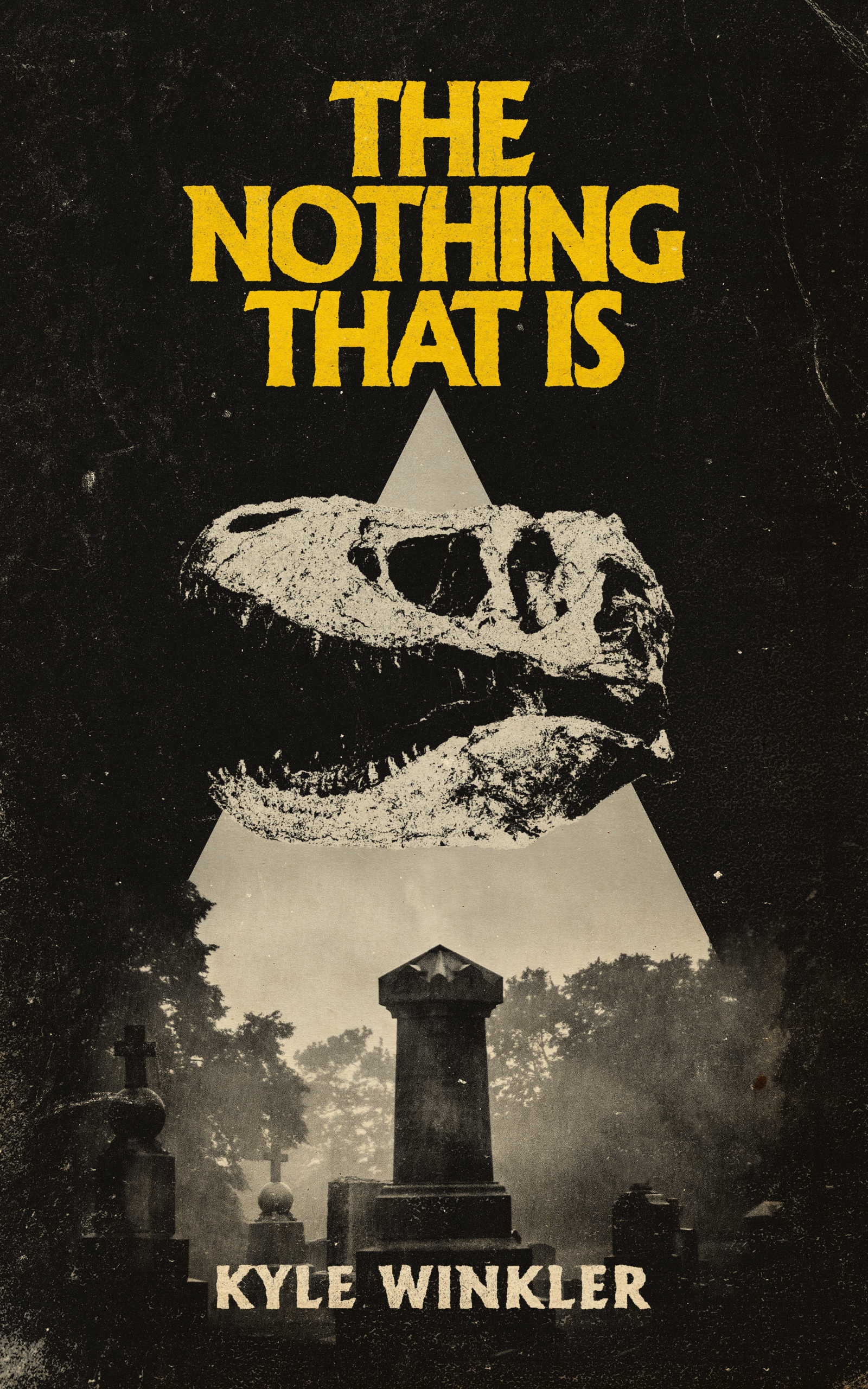 It's 1986. Cade McCall is an assistant manager for a catering business. Driving to work one morning, part of the local graveyard explodes. Later the same day, Cade gets an odd message from a client who needs catering for an Extreme Food Club. He calls himself Mr. Dinosaur. And he's paying $11,000. Despite Cade's reservations, he takes the gig. Although, who's feeding whom is another question entirely...
Involving female biker gangs, cults, possessed furniture, and a full dose of cosmic horror,
THE NOTHING THAT IS
serves up the weird.
"Infused with cosmic, culinary dread and seasoned with dark humor, The Nothing That Is reads like Anthony Bourdain riffing on Lovecraft. Winkler's engaging style and hypnotic prose will consume you whole, and if that doesn't whet your appetite, there's an exploding graveyard. Eat this one up, my friends, before it eats you!"

— Kealan Patrick Burke, Bram Stoker Award-winning author of Kin & Sour Candy
"Wild, fast-moving, and disorientingly hilarious…The Nothing That Is is down to earth and completely unhinged. It also gave me a jolt of sickening, infinite horror I hadn't felt since the Vermicious Knids jumped out of Charlie and the Great Glass Elevator."

— Ben Loory, author of Tales of Falling and Flying

---
Academic Work
Critical Quarterly. "Syntax as Punishment: Joy Williams's Reckonings."

Midwest Quarterly. "Avoiding Verbal Solutions: On Troping, Rhetoric, and Student Writing." (forthcoming April 2022)
End of 2022/Beginning of 2023 Stuff:

Check out my new ongoing column for Hipsters of the Coast--"Swamp Talk"--where I discuss the rhetoric, poetry, and philosophy of the black cards in Magic: The Gathering.
***
I was named by Michael J. Seidlinger as one of 8 emerging horror authors changing the face of the horror genre by The Lineup Magazine. Read more here.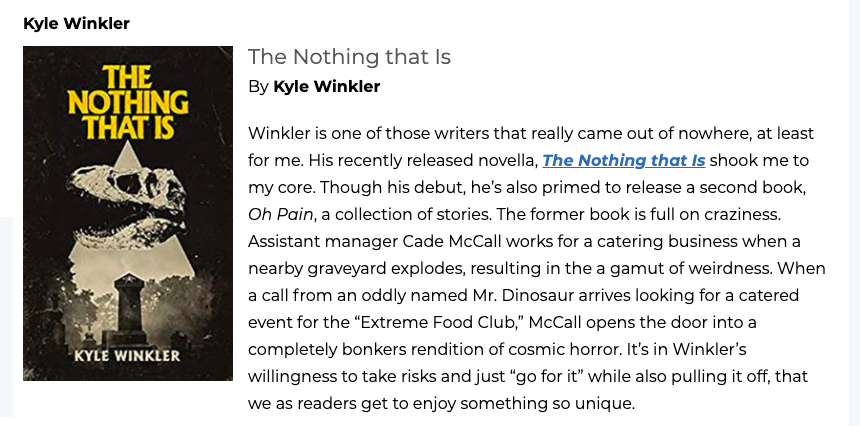 Selected Fiction
Selected Essays
Selected Interviews